Messages

213
Location
Special Affiliations

SKYWARN® Volunteer
The latest Day 4 Outlook from SPC has a severe risk for portions of LA/MS/AL: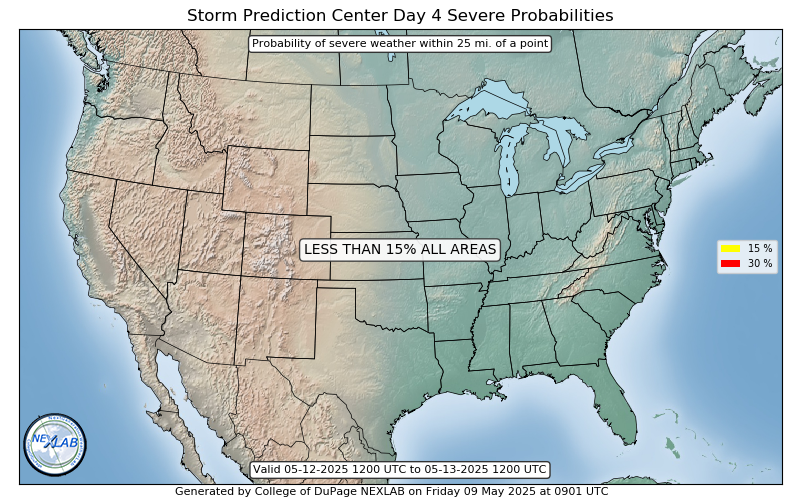 MODEL CONSENSUS IS THAT A BROAD SYNOPTIC UPPER TROUGH WILL DOMINATE
MUCH OF THE U.S. ON THURSDAY (DAY 4). A SHORTWAVE TROUGH EMBEDDED
WITHIN THIS FEATURE WILL DEAMPLIFY AS IT MOVES RAPIDLY FROM THE
LOWER MS VALLEY EARLY DAY 4 TO THE NORTHEAST U.S. BY DAY 5. STORMS
WILL BE ONGOING ALONG COLD FRONT FROM THE TN VALLEY TO LA EARLY IN
THE DAY. WIND AND VERTICAL SHEAR PROFILES ENHANCED BY THE EJECTING
SHORTWAVE TROUGH WILL BE SUPPORTIVE OF SEVERE STORMS. WHILE LAPSE
RATES WILL REMAIN POOR, INFLUX OF LOW-LEVEL MOISTURE WILL RESULT IN
AT LEAST MARGINAL INSTABILITY, AND STORMS MAY ORGANIZE ALONG THE
COLD FRONT POSING A RISK FOR MAINLY DAMAGING WIND ALONG WITH A
CONDITIONAL THREAT OF A COUPLE OF TORNADOES OVER A PORTION OF THE
GULF COAST STATES.