Messages

197
Reaction score

426
Location
Special Affiliations

SKYWARN® Volunteer
ARRL Member
Footage of the June 20, 2011 Almena, KS tornado with some pretty incredible damage shots at the end. Yep, this thing was definitely stronger than EF3...
Almena may be one of the most violent tornado during that outbreak, including several other violent candidate like Osceola NE EF3 and Hill city KS EF3.
This tornado can be easily distinguished from others for its huge, dusty debris cloud.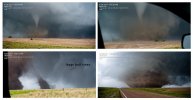 The tornado completely destroyed a poorly anchored house, a 1000 gallon propane tank was thrown into the basement.Trees around the house suffered slight debarking.
The tornado would stand out for rolling several combines tractors together, similar to what we saw in Chapman EF4 but not to that extent.