Messages

813
Reaction score

568
Location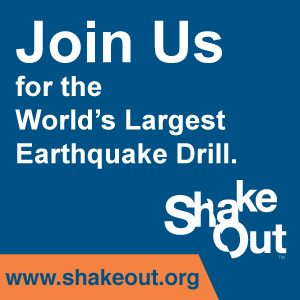 Great ShakeOut Earthquake Drills help people in homes, schools, and organizations worldwide improve preparedness and practice how to be safe during earthquakes. Register to participate in your state or country's drill at www.ShakeOut.org.

www.shakeout.org
It doesn't look there as though Alabama has anything official going on (so don't crawl under your desk at work, etc., tomorrow
), but it's still a good day to think up some specific things you could do in case the New Madrid Fault or some other shakey-shake went off.
It's like tornadoes -- scary but something that can happen, so you have to plan for it (and study up on, since knowledge is power:
https://www.memphis.edu/ceri/public/eq_resources.php
).
IRIS Earthquakes even managed to cover in one tweet situations people might meet anywhere they might be. Check out the link, too, for more detailed advice.
Be safe, everybody.